The Authorize.Net Payment Gateway can help you accept credit card and electronic check payments quickly and affordably online. Your Authorize.Net account comes with a secure web site interface from which you can manage transactions, configure your account settings, view account statements, generate reports and more.
Authorize.Net can be accessed from any computer with an Internet connection and Web browser, so there is no need to download or install software! Authorize.Net also utilizes the most advanced security initiatives, encryption methods and protocols available.
More than 248,000 merchants trust Authorize.Net to manage their transactions, help prevent fraud, and grow their business!
HERE'S HOW IT WORKS: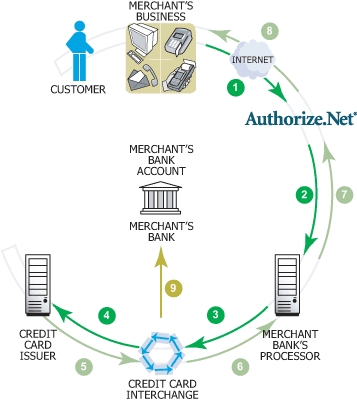 The merchant submits a credit card transaction to the Authorize.Net Payment Gateway on behalf of a customer via secure connection from a Web site, at retail, from a MOTO center or a wireless device.
Authorize.Net receives the secure transaction information and passes it via a secure connection to our front-end processing platform.
Our processor submits the transaction to the Credit Card Interchange (a network of financial entities that communicate to manage the processing, clearing, and settlement of credit card transactions).
The Credit Card Interchange routes the transaction to the customer's Credit Card Issuer.
The Credit Card Issuer approves or declines the transaction based on the customer's available funds and passes the transaction results, and if approved, the appropriate funds, back through the Credit Card Interchange.
The Credit Card Interchange relays the transaction results to our processor.
Our Processor relay's the transaction results to Authorize.Net.
Authorize.Net stores the transaction results and sends them to the customer and/or the merchant. This communication process averages three seconds or less!
The Credit Card Interchange passes the appropriate funds for the transaction to the Merchant's Bank, which then deposits funds into the merchant's bank account. The funds are typically deposited into your primary bank account within two business days.


Learn More: Auth.Net Merchant Solutions.pdf